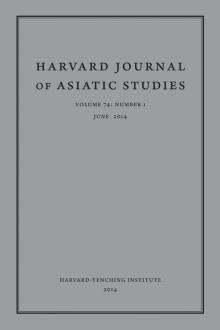 Editorial Preface & In Memoriam
In Memoriam, Rulan Chao Pian, 1922–2013
Articles
Law, Deities, and Beyond
From Sanyan Stories to Xingshi yinyuan zhuan
Abstract
Xiaoqiao Ling compares several Sanyan stories with the full-length novel Xingshi yinyuan zhuan, especially in the context of seventeenth-century print culture and the social practice of merit-accumulation, to show how the two genres differ in their representation of law. The Sanyan stories target both an imagined, illiterate mass audience and the sophisticated literatus reader; they thus adopt the storyteller's voice to educate the former and provide marginal commentary to address the literate elite. Set in everyday reality, the courtroom stands out as a fictional space where retributive calculations are carried out to fulfill the mandate of Heaven. By contrast, Xingshi yinyuan zhuan removes the storyteller's voice and invokes multiple moral discourses to explore the limitations of law as a human institution. Morality, Ling concludes, is a fluid field shaped not only by the contemporary intellectual debates but also by the audience that the author anticipates.
Poets, Paragons, and Literary Politics
Sugawara no Michizane in Imperial Japan
Abstract
Robert Tuck examines the Meiji reception of the Heian scholar and poet Sugawara no Michizane (845–903) to outline the development of several influential modern narratives of Sino-Japanese literary relations. Beginning with the views of Michizane held by Edo-period Confucian scholars, he proceeds to cover key debates among Meiji scholars concerning Michizane as an icon of imperial loyalty and as a kanshi poet of "utmost sincerity" (shisei). In the 1890s literary scholars attacked all Heian kanshi writing as insincere and formalistic, but from 1902, the one-thousandth anniversary of Michizane's death, other scholars made Michizane the focus of a new narrative in which Japan overcame the linguistic obstacles of literary Chinese and domesticated kanshi. By analyzing Meiji scholars' discourse on Michizane, Tuck reveals the cultural and ideological currents that continue to influence narratives of Sino-Japanese literary history to the present day.
Book reviews
The Ming Prince and Daoism: Institutional Patronage of an Elite, by Richard G. Wang
Courtesans, Concubines, and the Cult of Female Fidelity: Gender and Social Change in China, 1000-1400, by Beverly Bossler
Rewriting Medieval Japanese Women: Politics, Personality, and Literary Production in the Life of Nun Abutsu, by Christina Laffin
Strange Eventful Histories: Identity, Performance, and Xu Wei's Four Cries of a Gibbon, by Shiamin Kwa
Traversing the Frontier: The Man'yōshū Account of a Japanese Mission to Silla in 736-737, by H. Mack Horton
Letters and Epistolary Culture in Early Medieval China, by Antje Richter
Memory, Violence, Queues: Lu Xun Interprets China, by Eva Shan Chou
What Remains: Coming to Terms with Civil War in 19th Century China, by Tobie Meyer-Fong; Autumn in the Heavenly Kingdom: China, the West, and the Epic Story of the Taiping Civil War, by Stephen R. Platt
Women's Poetry of Late Imperial China: Transforming the Inner Chambers, by Xiaorong Li
Reinventing Modern China: Imagination and Authenticity in Chinese Historical Writing, by Huaiyin Li
Knowing the Amorous Man: A History of Scholarship on Tales of Ise, by Jamie L. Newhard
Empire of the Dharma: Korean and Japanese Buddhism, 1877-1912, by Hwansoo Ilmee Kim
Kokugaku in Meiji-period Japan: The Modern Transformation of 'National Learning' and the Formation of Scholarly Societies, by Michael Wachutka