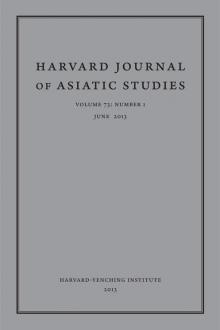 Editorial Preface & In Memoriam
Articles
Rites and Rule
Kiyomori at Itsukushima and Fukuhara
Abstract
Heather Blair offers a correction to the politically centered paradigm for early medieval history. English-language historians have generally focused on the political and military history of the Genpei War (1180-1185), attending to the war's victors, the Minamoto, while defining Taira no Kiyomori (1118-1181) primarily as failed warrior. Placing Kiyomori in the context of Heian court culture, Blair instead argues that ritual played an important role in the Taira family's rise. Formulating a new theoretical model of ritual regimes, she first outlines the regime piloted by Retired Emperor Go-Shirakawa (1127-1192), with whom Kiyomori interacted constantly, and then examines Kiyomori's ritual activities and their relation to his political career. Through a close analysis of Kiyomori's construction of a set of signature sites, rites, and texts—at both the ocean-side shrine Itsukushima and Fukuhara—Blair makes her case for the importance of ritual in twelfth-century politics.
Cooperation and Tension
Revisiting Local Activism in the Southern Song Dynasty
Abstract
Sukhee Lee takes as his point of departure a conundrum: although the local elites of Mingzhou prefecture won glowing praise for their role in building community solidarity, the financial support for their activities actually often came from the state. Because Mingzhou local activism was clearly not a response to a retreating state, Lee focuses on the complex interplay between the state and local elites, especially by examining their sponsorship of official schools, the community drinking ceremony, charitable estates, and the charitable service. He demonstrates that the state and local elites had convergent interests, but he also shows that they differed both in their commitment to local projects and in their visions of elite social responsibility. Two contending but complementary visions, rather than the complete triumph of one over the other, was vital to the success of local activism of Mingzhou.
Review essays
Boats Moored and Unmoored: Reflections on the Dunhuang Manuscripts of Gao Shi's Verse
Book reviews
Pastimes: From Art and Antiquarianism to Modern Chinese Historiography, by Shana J. Brown
The Crafting of the Ten Thousand Things: Knowledge and Technology in Seventeenth-Century China, by Dagmar Schäfer
Art by the Book: Painting Manuals and the Leisure Life in Late Ming China, by J. P. Park
An Unfinished Republic: Leading by Word and Deed in Modern China, by David Strand
The Taming of the Demons: Violence and Liberation in Tibetan Buddhism, by Jacob P. Dalton
The Face of Jizō: Image and Cult in Medieval Japanese Buddhism, by Hank Glassman
Golden-Silk Smoke; a History of Tobacco in China, 1550-2010, by Carol Benedict
A Place in Public: Women's Rights in Meiji Japan, by Marnie S. Anderson; Reforming Japan: The Woman's Christian Temperance Union in the Meiji Period, by Elizabeth Dorn Lublin; Women and Public Life in Early Meiji Japan: The Development of the Feminist Movement, by Mara Patessio
Guilty of Indigence: The Urban Poor in China, 1900-1953, by Janet Y. Chen
Selling Women: Prostitution, Markets, and the Household in Early Modern Japan, by Amy Stanley
Fabricating Consumers: The Sewing Machine in Modern Japan, by Andrew Gordon
Performing the Great Peace: Political Space and Open Secrets in Tokugawa Japan, by Luke S. Roberts