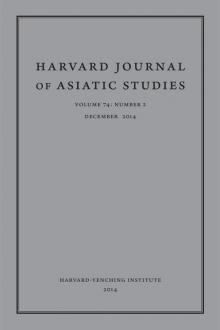 Editorial Preface & In Memoriam
In Memoriam, Patrick Dewes Hanan, 1927–2014
Articles
Within and Between Cultures
The Liang-Zhu Narrative in Local Korean Cultures
Abstract
Sookja Cho examines how an ancient Chinese love story, the legend of Liang Shanbo and Zhu Yingtai, was disseminated and received in Korea. Although this legend originated in China around the fourth century, it successfully crossed cultural boundaries and took up residence in Korea, where it has been continually modified and adapted to address everyday concerns of Koreans. By contrasting Korean and Chinese versions of the tale, Cho demonstrates that the Korean versions employed local lore, enriched shaman rituals, rendered the male protagonist Liang Shanbo with a distinctive realism, and embodied Korean values of family and education. Cho shows how the case of a single Chinese story, one with deep historical roots and a rich cultural legacy, illuminates the force of Korea's own conventions and cultural traditions in literary appropriation and suggests the literary agency of ordinary people.
The Ningbo-Hakata Merchant Network and the Reorientation of East Asian Maritime Trade, 1150–1350
Abstract
Richard von Glahn analyzes the movement of coin to illuminate the heyday enjoyed by East Asian maritime commerce during the period 1170–1270. The widespread substitution of paper money for bronze coin in China triggered a massive export of Chinese coin to Japan. These exports in turn stimulated the rapid monetization of Japan's domestic economy, which further invigorated maritime commerce. A transnational network of merchants from Ningbo and Hakata emerged and achieved dominance over Sino-Japanese trade. In the port city of Hakata, Ningbo merchants developed personal and business ties with Japan's kenmon elite—the warriors, courtiers, and religious institutions that dominated Japanese government and society—ties that proved crucial to their commercial success. As a result of these networks, China's overseas commerce underwent a major reorientation, with Ningbo abruptly supplanting Quanzhou and Guangzhou as the main port of international trade.
What's in a Name?
House Revival, Adoption, and the Bounds of Family in Late Medieval Japan
Abstract
David Spafford examines the relationship between warrior houses and their names in fifteenth- and sixteenth-century Japan. Widespread reliance on adoption of heirs and the less common revivals of extinct houses reveal how late medieval warriors framed the membership and boundaries of the house (ie). Together and separately, adoptions and revivals force us to reckon with the malleable nature of warrior houses—which included both kin and non-kin—and their essentially political character. They force us to think through the several dimensions of the ie as an analytical framework: heraldic group, house/lineage, household. The decisions of individuals and individual lineages about naming, affiliation, and identity demonstrate both that a house's surname served to symbolize familial continuity and that the openly constructed nature of the house-as-multigenerational-named-entity allowed strategic use of marriage and adoption for family survival through the long age of civil strife.
Book reviews
The Missionary's Curse and Other Tales from a Chinese Catholic Village, by Henrietta Harrison
Lin Shu, Inc.: Translation and the Making of Modern Chinese Culture, by Michael Gibbs Hill
The Premise of Fidelity: Science, Visuality, and Representing the Real in Nineteenth-Century Japan, by Maki Fukuoka
From Frontier Policy to Foreign Policy: The Question of India and the Transformation of Geopolitics in Qing China, by Matthew W. Mosca
The Burden of Female Talent: The Poet Li Qingzhao and Her History in China, by Ronald Egan
A Sense of Place: The Political Landscape in Late Medieval Japan, by David Spafford
Screen of Kings: Royal Art and Power in Ming China, by Craig Clunas; Martial Spectacles of the Ming Court, by David M. Robinson
White Lotus Rebels and South China Pirates: Crisis and Reform in the Qing Empire, by Wensheng Wang
Mabiki: Infanticide and Population Growth in Eastern Japan, 1660–1950, by Fabian Drixler